Body
Ohio State's Master's program in Contemporary Art and Curatorial Practice (CACP) is the only program of its kind to be located within a major research university.  The program makes the most of that fact by being fully interdisciplinary. Although housed within the History of Art Department, it involves coursework in other departments, including Comparative Studies and Arts Administration, as well as at the Moritz College of Law and the John Glenn College of Public Affairs.  A curatorial Internship places students in contemporary arts institutions around Columbus and Ohio, including the Wexner Center for the Arts, the Columbus Museum of Art, and the Cleveland Museum of Art.
The program is designed to meet all of the standards set by the College Art Association for curatorial studies programs and is one of only a handful of programs in the U.S. that does so.  Its curriculum insures that students will get both a solid grounding in art history as a discipline (as opposed to simply a familiarity with recent artistic practices) and the training in things like grant-writing, legal contracts, and nonprofit management essential to contemporary curatorial practice.
The MA is designed to fully prepare students for a curatorial career in the field of contemporary art and to provide them with sufficient art-historical training that they could move directly into doctoral study, should they decide to take that course instead.
Advanced
Text
The M.A. program in Contemporary Art and Curatorial Practice will not be accepting applications for the 2022/23 academic year.
Text
Admission Requirements
Bachelor's degree in the History of Art, or a closely related field with significant preparation in the History of Art (approximately 24 quarter hours beyond survey level courses), is expected. However, in the case of students with degrees in cognate fields and in exceptional cases, this expectation may be modified. Normally, a student with a degree from another institution will be accepted as having preparation in the field equivalent to that offered at Ohio State University. For an applicant whose preparation is deemed to be incomplete, additional course work may be required.

A 3.3 GPA in all undergraduate work and a 3.5 GPA in all graduate work is expected. Other factors may be taken into consideration, especially superior previous work in History of Art.

In the case of international students, TOEFL scores are required.
Admission Criteria
•    Application forms
•    Résumé / Curriculum vitae
•    Personal statement (1-2 pages)
•    Academic Writing Sample (12-30 pages)
•    Exhibition proposal (<1500 words)
•    Three letters of recommendation 
•    Official College transcripts
•    Telephone or skype interview (to be arranged after the application deadline on an individual basis with student and select faculty)
All application materials for the OSU Graduate School are available online at the Graduate Admissions Webpage. 

For general information about the OSU Graduate School please visit the Graduate School Webpage. If you have further questions, contact the HistoryofArt@osu.edu.
Text
Program Requirements
Students are required to take a minimum of 61 credit hours during their three years in the program. 
The following core courses are required of all CACP students: Historical and Conceptual Foundations of Art History; Exhibition Histories; Curatorial Practicum; Curatorial Thesis Writing; and Curatorial Internship.
Together, the Curatorial Practicum and Curatorial Thesis Writing courses walk students in the final year of the MA program through the process of staging a major exhibition and producing a catalogue, which collectively serve as their culminating project.
During their first 5 semesters in the program, students are also required to take a total of 7 History of Art courses (including Curatorial Elective seminars), a theory course, and 3 classes in Law, Public Policy or Arts Administration (e.g., Drafting Business Contracts, Grant-Writing in the Public Sector, and Nonprofit Art Institution Governance).
In studying the cultures of many regions and eras, Ohio State's Department of History of Art believes that the best art history depends on a wide variety of approaches and vantage points. Our department is thus committed to building and maintaining an inclusive and diverse learning environment, where all persons and perspectives may contribute to our joint intellectual enterprise.
Text
The Curatorial Internship will place students in the MA Program with contemporary arts institutions around Columbus and Ohio where they will work closely with the curatorial staff on exhibitions and attend to the day-to-day operations of the institution.
In addition, students will be able to avail themselves of everything Ohio State's Wexner Center for the Arts has to offer, from exhibitions, film screenings and performances to talks by some of the leading figures in the field of contemporary art. Recent Wexner Center Residency Award recipients include Zoe Leonard, Josiah McElheny, Kerry James Marshall, William Forsythe, Mark Bradford, Sarah Oppenheimer, and Torkwase Dison.
Curatorial Practice students will also have the opportunity to work on the Department of Art's MFA exhibitions, staged annually at OSU's Urban Arts Space, or to write for the MFA catalogues.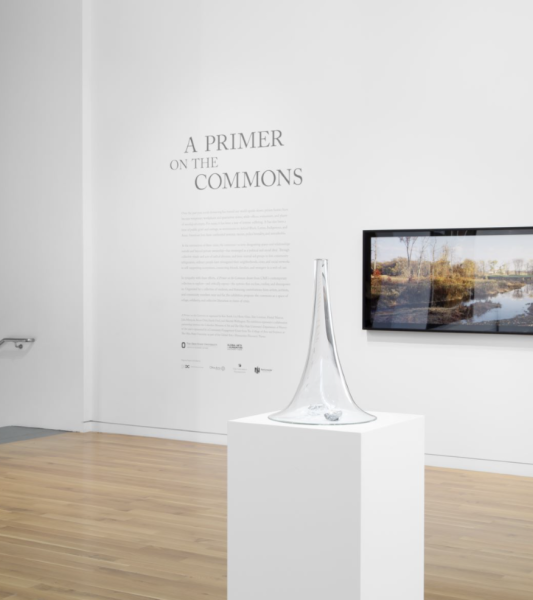 Curatorial Projects and Lectures
Many faculty members and graduate students in History of Art are active curators in the field, and many of our graduates hold curatorial positions at institutions around the world.
Curatorial projects are regularly integrated into both undergraduate and graduate courses in History of Art, where students work with faculty members to design and plan exhibitions.
Click through to see examples and descriptions of some of these curatorial collaborations, lectures, and partnerships.