Body
The BA in Art History provides a solid background in the humanities, develops skills in writing and critical thinking, and, above all, enhances one's understanding and appreciation of creative accomplishment. On the practical side, art history degrees can lead directly to employment in numerous art related fields, such as editing, publishing, travel and tourism, as well as to work in art galleries, auction houses, and numerous other for-profit and not-for-profit arts organizations. Combined with the requisite post-graduate degrees, a BA in art history can also effectively prepare students for careers in law and business administration, architecture and historic preservation, library science and archival work, development, design, teaching, and art education. The BA in art history also prepares students for post-graduate work within the discipline, which is normally required for careers in academia and museums.

Alumni from the History of Art undergraduate program have gone on to successful careers in all of these fields.  Below, a few alumni speak in their own words about their current careers and how Ohio State's art history program prepared them for their postgraduate work.
Advanced
Text
Erin Riddiford (BA 2018) will be attending Boston University's School of Law starting in Fall 2021, focusing on Law and Preservation.  Before being admitted to BU, Erin completed an MA in History of Art at the University of Toronto.
Ryan Mitchell (BA 2017) was a recipient of a U.S. Student Fulbright Grant to study in Turkey during the 2020-21 academic year. He has also been accepted into the Art History PhD program at Temple University, where he will study with Prof. Emily Neumeier, a former ACLS Postdoctoral Fellow in our department.
Izzy DeSantis (BA 2020) was accepted into the MA Program in History of Art at the Courtauld Institute of Art in London.
Jo Snyder (BA 2019) is the Education Programs Coordinator with the Wexner Center for the Arts. 
Paola Medina Gonzalez (BA 2017) is attending to graduate school in art history at University College London beginning Autumn 2019. 
Felicity Su (BA 2019) will begin the MA program at the University of Wisconsin Madison in Autumn 2019, where she will focus on Chinese Art.
Xinyue Jiang (BA 2017) began the MA program at Stanford University in Autumn 2017, where she focuses on East Asian Art.
Charlie Gbur (BA 2014) is a program specialist in the area of Education Abroad within Ohio State University's Office of International Affairs.
Elaina Gregg (BA 2015) is the Emergency Programs Coordinator for the Foundation for Advancement in Conservation in Washington, D.C.
Rick Kinsel (BA 1989) is Executive Director at the Vilcek Foundation.
Text
RICK KINSEL (BA 1989)
"My studies at Ohio State set the foundation for what has become a lifelong love of art, design, and art history. In many ways, I had an atypical college experience at OSU: I worked three jobs to pay for my tuition, which unfortunately left me zero time for parties, sports, or clubs. (If I did have any free time, you could find me in the library.) However, by the time I graduated, I had a thorough grounding in a swath of art history, including archaeology, ancient Greek and Roman, medieval, Renaissance, 20th-century, and contemporary art. 
Afterwards, I left for New York City and landed my first job at the Metropolitan Museum of Art. Though it was an entry-level role, being among so many accomplished scholars inspired me to work hard, and seven years later I had become the cataloguer in charge of acquisitions, where I coordinated acquisitions and de-accessioning, and oversaw the cataloguing of all objects acquired by the museum. I went on to work for Coty, Inc., as director of cultural affairs, curating and establishing its corporate art collections in New York, Paris, London, and Moscow; I also completed my master's degree at the Bard Graduate Center for Studies in the Decorative Arts during that time.
Since 2000, I have been with the Vilcek Foundation, a nonprofit organization that raises awareness of immigrant contributions to the arts and sciences and manages the Vilcek Foundation Art Collections. As the president of the foundation, I draw upon my art-history background constantly: I advise on the purchase of artworks, create and curate exhibitions, negotiate loans and partnerships for traveling exhibitions, and oversee publishing partnerships for a multitude of arts-related content.
My love of art history isn't limited to professional endeavors; it has contributed to the richness of my personal life as well. I am a member of the Friends of Arms and Armor at the Metropolitan Museum of Art and of the Collections Committee of the Philbrook Museum of Art in Tulsa, Oklahoma; and in my free time, I am a curator for Pen + Brush, a nonprofit organization dedicated to supporting women in visual arts and literature. My time at the History of Art Department at OSU provided the launchpad for these ventures, and I aspire to keep the trajectory going: I dream of one day visiting every museum on the planet (I believe I am already halfway there) and hope to continue to meet many wonderful friends, colleagues, and emerging scholars in the field."
---
RACHEL MIHALKO (BA 2012)

"I graduated with a BA in History of Art in 2012, and currently have a rewarding job in the registrar's office at the Yale University Art Gallery. Because I help manage our collections, which frequently involves organizing loans to and from other museums, I work daily with a wide array of materials ranging from traditional oil paintings to sculptures, photographs, and prints. At a basic level, a background in art history was an educational requirement for this position, but, more significantly, my coursework at Ohio State helped prepare me to research materials in Yale's collection and archives. This research is some of the most exciting work that I do. While at Ohio State, I also worked as a student employee in the Rare Books and Manuscripts Library and took an internship at the Columbus Museum of Art; both experiences provided important professional experience and complemented my classes quite well. The History of Art faculty at Ohio State always encouraged me to challenge myself, and I have no doubt that this helped me get where I am today."
---
MOLLY WARNOCK (BA 2000)

"I took my first art history courses at OSU out of sheer curiosity, and soon decided to major in the discipline. My professors in the department combined sustained attention to specific works of art with a searching consideration of broader, philosophical and theoretical implications. I was drawn to their conviction that art thinks: that works of art are not simply objects of knowledge, but actively create knowledge. It was while completing an Honors Thesis under the supervision of Professor Stephen Melville, on philosopher G.W.F. Hegel's Aesthetics, that I decided to pursue graduate study.

After graduating Summa Cum Laude from OSU in 2000, I went on to complete a joint PhD in History of Art and Intellectual History at the Johns Hopkins University, subsequently teaching modern and contemporary art history and theory at Princeton University, the University of Chicago, and Emory University, before returning to JHU as an assistant professor in History of Art in the fall of 2013. In recent years, I've published a book on the Hungarian-born French painter Simon Hantaï (Penser la peinture: Simon Hantaï, Gallimard, 2012), curated a double exhibition of Hantaï's work for galleries in New York and Paris, and written for numerous exhibition catalogues and journals, including Nonsite, Art in America, and Artforum. I still count my former professors in OSU History of Art among my most important mentors, take extraordinary pleasure in introducing my students to their writing, and believe my own teaching and research to be profoundly indebted to the examples they set and continue to set."
---
JENI BRITTON BAUER is the founder and chief creative officer of Jeni's Splendid Ice Creams. Before she started making ice cream, she studied art and art history here at Ohio State.
"When you study art history, you begin to acquire the skills to identify patterns of human behavior.  I cannot think of anything more beneficial to a would-be entrepreneur than that. 
Art history is not the study of art or history per se. It is the study of what people believed and how they reacted to events of their time. And apart from being infinitely interesting and incredibly challenging, it is a superb foundation for a career, and for a life well lived. 
People who study art history gain awareness of who a people are or were, what motivated them, and why. If you are trained to identify human desire, longing, and response, you may be well-suited for a career as an entrepreneur, humanitarian, diplomat, trend-watcher, copywriter, creative director, King (William), Duchess (Catherine), or President (Obama)."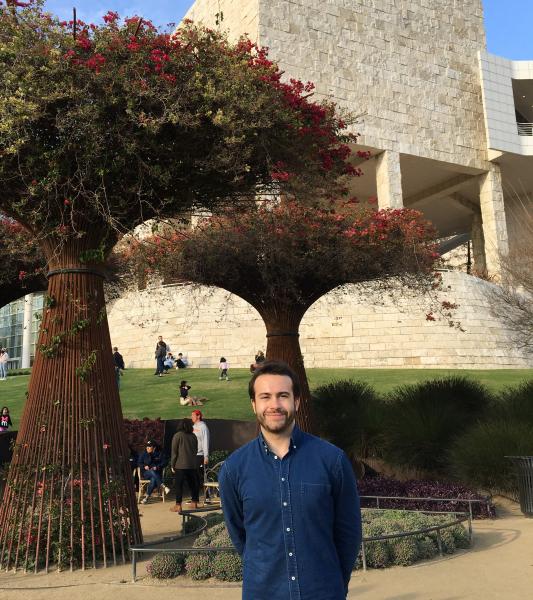 We love to hear from our undergraduate alumni so that we can share your successes, connect you with current students, and keep you up to date on what is going on in the department.  To share a recent professional accomplishment or job position, please email historyofart@osu.edu.
If you are an alum who is interested in hearing more about what is going on in the department, being invited to virtual events, or receiving a print copy of our newsletter, please email historyofart@osu.edu and ask to be added to our community listserv.