March 14, 2023
PhD Candidate Yifan Li Travels to "(De)constructing Ideology: The Cultural Revolution and Beyond" Exhibition at Wende Museum in Los Angeles
Image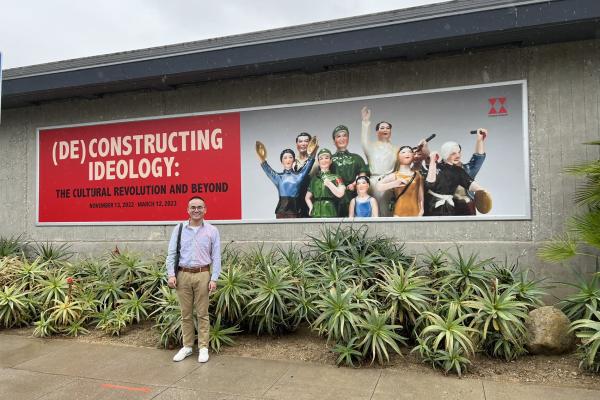 Description
In late February, PhD candidate Yifan Li traveled to Los Angeles to view the exhibition "(De)constructing Ideology: The Cultural Revolution and Beyond" at Wende Museum of the Cold War, where he enjoyed a private tour with the curator Dr. Jamie Kwan. Yifan was excited to see the ceramic iteration of such Mao-era icons as "Chairman Swimming across the Yangzi" and "The Rent Collection Courtyard." He has planned to incorporate some of the objects he studied at Wende into his dissertation and other projects.
Yifan also took the opportunity to explore the Los Angeles County Museum of Art, the Huntington Library, Art Museum, and Botanical Gardens, and the exhibition on contemporary Chinese photography and video at UCLA's Hammer Museum.
In addition, he spent three afternoons at UCLA browsing issues of Wenyi bao (Newspaper of Literature and Art) from the 1950s and 1960s at the Southern Regional Library Facility to collect sources for his dissertation. This research trip was made possible with funding from the department of history of art. 
News Filters:
---